Surface activity of the volcano El Reventador: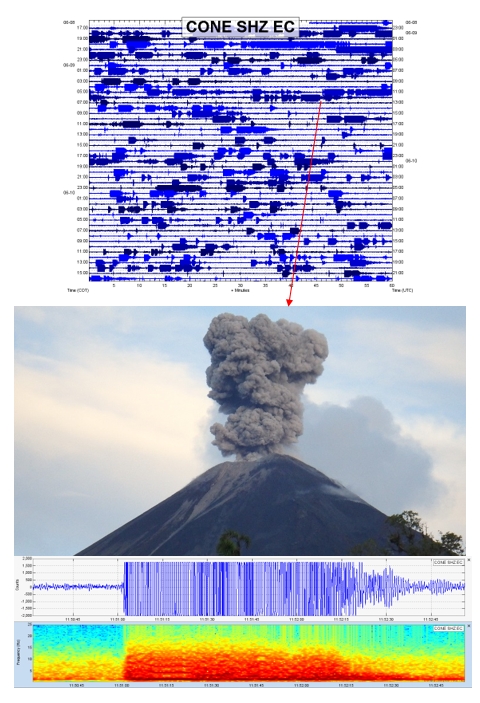 The surface activity of the volcano El Reventador in recent months remained high. During the maintenance work of the monitoring network, between 08 and June 10, 2016, the Geophysical Institute staff observed a high eruptive activity of the volcano.
There is a continuous emission of volcanic gases and water vapor (height of the emission column: 800m NW direction)
The explosions produced are moderate, with sounds at the foot of the volcano, similar to noise of gunshots, and generate emission columns about 2 km altitude above the crater with the presence of moderate load of ashes.
These explosions are recurring events of the volcano, as shown on the seismogram for the day of 09/06/2016.
Deposits generated due to the descent of pyroclastic flows associated with high explosive activity of the volcano, are clearly visibleas well as the descent of incandescent blocks ejected in the explosion. This phenomenon is recorded on all sides of the volcano, mainly on the south side and the north side of the volcanic edifice.
The vegetation inside the caldera, to the East and the North East showed the presence of fine gray ash. Because the wind mobilizes ash emitting column .
The activity of Reventador volcano remains at high levels, with permanent explosions, pyroclastic flows and recurring emissions with a moderate load of ashes scattered around the volcano without much impact on populated areas surrounding the volcano.
Contactez-nous pour organiser votre voyage sur les volcans.
Inscrivez vous sur notre mailling list pour connaitre nos prochains départs "Spécial Eruption Express"
June 25 , 2016.Reventador , Ecuador :
Source : IGEPN